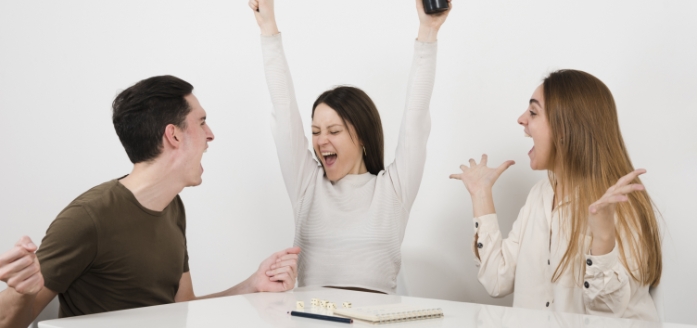 Fun Party Game Ideas For Teenagers and Adults
Christmas and New year are approaching fast, and we know you guys are thinking about how to celebrate this time. You must be planning to have a new year bash, but confused about what games to play with your friends? So here we are, bringing the best evergreen party game you can play with your friends. So, are you all excited to make your new year a memorable one? Then do not forget to check out our list.
Read this: Is Your Friendship in the Right Direction?
Best Party Games For This New Year
Never Have I Ever 
Never Have I Ever is a popular game amongst teenagers and adult audiences. The game is simple yet entertaining. You can play this game in large as well as small groups. The First-person starts the game by saying the statement of something they have never done in life. He/she has to say Never Have I Ever, and the thing he has never done before. Other persons who have done that action in their life have to take a sip of their drink. If no one has performed the action, then the First-person has to take a sip of his/her drink. The cycle continues until all finish their drinks. 
Balloon Dare 
You must have played or heard this game a lot many times in pat as well. But for those unaware of how to play balloon dare, let us help you. Playing this game at the party does not require to have many resources. Just some balloons, a pen, and small paper. Write certain dares on different slips of paper, and keep them inside the balloon before blowing air in it. Now each player has to pick a balloon of his/her own choice and pop it to know what dare he/she has to perform. 
Note: Avoid writing embarrassing dares; instead, ask to perform some challenges that are tricky to perform. 
Suck and Blow 
Hey, wait! Don't go on the name of this game. We know at first go it might sound like a cheap name, but in reality, it is not. Party doers must have an idea of this game already. This is a funny and challenging party game that can be played among friends group easily. All you need is playing cards. Stand in a straight line, person after person. Now the person from the last will be holding a card in his/her mouth. He/she has to transfer it to the next person without touching it. Another person has to suck the card to keep it tight in the mouth. If at any point card falls, then that person will be eliminated from the game. After that, the game will start from the beginning once again. 
Spin The Bottle
Another famous game amongst teenagers is Spin The Bottle. This game has a lot of versions. You can choose the adult version or keep it to teenagers as well. So, simple gameplay is just to rotate and an empty bottle. The real version of the game comes under the adult category. The whom the bottle points has to kiss the person sitting in front of the rear end of the bottle. 

Other versions: 
● Hugging between two persons instead of kissing. 
● Giving dares to perform. 
● Asking personal questions to each other. 
So if you are not a party pooper and want to have fun this Christmas and New Year, then keep this list of party games handy. You will surely enjoy playing the aforementioned games with your friends.
Must read: Childhood Friendship: Crucial For Emotional and Social Development