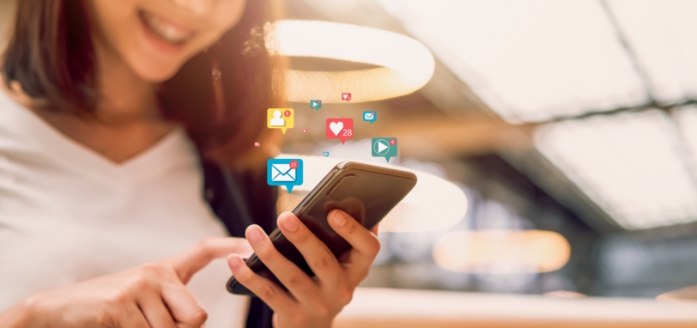 Social Media And Online Friendship: How Friendship Is Shifting From Offline to Online
Do you remember the days when we connected to strangers generally in schools, colleges, parties, outings? But with the advent of social media, things have changed now. Given how deeply social media has pervaded the lives of the majority of people, it's no wonder that these platforms play an essential part in the formation of friendships and day-to-day connections. This chapter delves deeper into the influence of social media in young friendships, with a focus on online or virtual friendships in general.
Also read: Ways to Kill Boredom
How Social Media Has Helped In Developing Online/Virtual Connections
Social media is important in connecting youngsters with new buddies and helping them to learn more about them and get to know them better. Approximately two-thirds (64%) of teenagers who have found a new acquaintance online claim they did so using a social media site. Many of them say they've shared their social network username with a new buddy to keep in touch.
One of the major advantages of social media is the ease with which you may make a huge number of acquaintances in a short period of time which was not possible a few years ago, as we discussed earlier. However, the increased use of smartphones has helped to change this and has enabled a number of people to connect in new and innovative ways. Following this, social networks arose, and the entire definition of friendship began to shift. Currently, any social networking platform may help you make hundreds to thousands of friends. True, they may not be people with whom you will spend time, but they will undoubtedly be your pals in the digital world. Another thing to bear in mind is that a social networking site can help you make and keep friends.
Virtual Friendships Have Several Advantages
Like anything else, this new technology-based type of friendship has its advantages and disadvantages. Now we'll look at a list of the benefits that virtual friendship gives, 
Shorten the spacing 
Even if people are geographically separated, virtual friendship has the ability to bring them together. It is possible to start or sustain a friendship relationship while living on different continents thanks to the various chat servers and free video conference services available.
Make it possible to say things in a secure manner
Some people have a harder time starting a conversation in person than others; they have a shy nature, and the Internet represents a safe platform for them to express themselves and form relationships with others.
Overcome cultural divides
Because Internet users come from all over the world, virtual friendships have the ability to transcend cultural barriers between countries. People of any race, ethnicity, religion and country can meet in a forum or social network and start a long-term friendship through digital means.
Promote a greater sense of fairness
For some people, virtual contact creates a sense of equality that is quite delightful. When it comes to virtual friendships, people frequently believe that there are less things that separate them and more things that bring them closer together.
How To Cultivate A Genuine and Healthy Online Friendship?
There are a variety of ways you may use to develop online friendships that add value to your life. Learning how to put oneself out there isn't always simple, but it may have a  huge impact on our happiness and sense of self, especially when done anonymously over the internet.
When it comes to contacting individuals online, the first — and frequently most crucial — thing we can do is conduct extensive research and place a strong emphasis on personal safety. Though online buddies can be a wonderful source of personal connection and support, it's also all too simple to be misled by individuals with less-than-ideal motives.  Look for those who share your interests and form communities around them. The smaller the group, and the more precise the group, the better your friendship would be. Don't be scared to make an introduction and put yourself out there. Reply to a few posts or send a quick "Hello!" to certain people you like the look of.

Also read: Fun Party Game Ideas For Teenagers and Adults